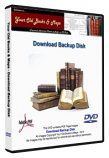 Downloads Backup Disk or USB Memory Stick
If you have ordered downloads, you can also have a backup of the files on disk(s).

Disk(s) will be custom printed, with case & printed cover. USB Sticks can be re-used.

If multiple downloads are ordered, there is no extra cost if more than 1 Disk/USB Stick is needed.
Advantages of the backup Disk/USB Stick:-


A hard copy backup on disk of your downloads.

Don't have a fast internet connection but would like some of the download only items.

Prefer items on disk - quite happy to have multiple items on a single disk.

YOBM becomes more efficient by using less paper, ink, cases, card, disks...

USB Sticks can be re-used.
You only need to add 1 Backup Disk or USB Stick
per order, regardless of the number of downloads purchased unless you specifically want 1 disk per product.