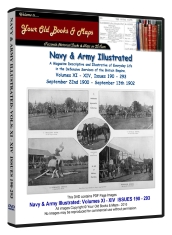 Navy and Army Illustrated Volumes XI - XIV Bundle ( Volumes 11 to 14)
DOWNLOAD or DVD
Navy and Army Illustrated Volume XI - XIV Bundle Volumes 11 to 14 download or DVD at a discounted price.
Navy & Army Illustrated A Magazine Descriptive and Illustrative of Everyday Life in the Defensive Services of the British Empire.
Regiments & and Royal Navy ships, troops, uniforms, parades and images of daily routines, fascinating snapshot at service life at the time.
Issue 190 Sept 22nd 1900

to
Issue 293 Sept 13th 1902

Individual product pages:-