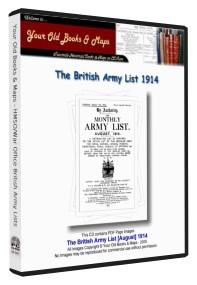 The British Army List 1914
A Distribution List Of Officers On The Active List Of The Regular Army, The Royal Marines, Special Reserve, Territorial Force, Reserve Of Officers, &c. To Which Will Be Added Every Quarter Lists Of Officers Of The Regular Army, &c, Retired From The Active List, Victoria Cross, Orders Of Knighthood, Foreign Orders, &c..
CONTENTS
MEMORANDA.
SCHEDULE OF ARRANGEMENT.
TABLE OF CONTENTS.
ALPHABETICAL LIST OF REGIMENTS.
The KING.
WAR OFFICE.
COMMANDS OF THE ARMY.
OFFICERS OF THE ARMY ON THE ACTIVE LIST.
ROYAL FLYING CORPS.
CAVALRY.
YEOMANRY.
ARTILLERY.
ENGINEERS.
FOOT GUARDS.
INFANTRY.
SERVICE CORPS.
MEDICAL SERVICE.
VETERINARY SERVICE.
CHAPLAINS' DEPARTMENT.
NURSING SERVICE.
ORDNANCE DEPARTMENT.
PAY DEPARTMENT.
MILITIA.
UNATTACHED LIST.
OFFICERS TRAINING CORPS.
INDIAN ARMY.
ROYAL MARINES.
WARRANT OFFICERS.
RESERVE OF OFFICERS.
TERRITORIAL FORCE RESERVE.
TERRITORIAL FORCE ASSOCIATIONS.
MILITARY COLLEGE.
ESTABLISHMENTS.
SPECIAL LISTS.
PROMOTIONS.
APPOINTMENTS.
DEATHS.
INDEX (ACTIVE LIST AND RESERVE OF OFFICERS).
List of Regiments
Coldstream Guards, Grenadier Guards, Irish Guards, Scots Guards, Argyll and Sutherland Highlanders, Bedfordshire Regiment, Royal Berkshire Regiment, Border Regiment, Cameron Highlanders, Cheshire Regiment, Oonnaught Rangers, Duke of Cornwall's Light Infantry, Devonshire Regiment, Dorsetshire Regiment, Royal Dublin Fusiliers, Durham Light Infantry, Essex Regiment, Gloucestershire Regiment, Gordon Highlanders, Hampshire Regiment, Highland Light Infantry, Royal Inniskilling Fusiliers, Royal Irish Fusiliers, Royal Irish Regiment, Royal Irish Rifles, East Kent Regiment, Royal West Kent Regiment, King's Royal Rifle Corps, Lancashire Fusiliers, East Lancashire Regiment, Loyal North Lancashire Reglment, South Lancashire Reg!ment, Royal Lancaster Regiment, Leicestershire Regiment, Leinster Regiment, Lincolnshire Regiment, Liverpool Regiment, Manchester Regiment, Middlesex Regiment, Munster Fusiliers, Norfolk Regiment, Northamptonshire Regiment, Northumberland Fusiliers, Nottinghamshire and Derbyshire Regiment, Oxfordshire and Buckinghamshire Light Infantry, Rifle Brigade, Royal Fusiliers, Royal Highlanders, Royal Scots, Royal Scots Fusiliers, King's Own Scottish Borderers, Scottish Rifles, Seaforth Highlanders, Shropshire Light Infantry, Somerset Light Infantry, North Staffordshire Regiment, South Staffordshire Regiment, Suffolk Regiment, East Surrey Regiment, Royal West Surrey Regiment, Royal Sussex Regiment, South Wales Borderers, RoyalWarwickshire Regiment, RoyalWelch Fusiliers, Welsh Regiment, West Riding Regiment, Wiltshire Regiment, Worcestershire Regiment, York and Lancaster Regiment, Yorkshire Light Infantry, Yorkshire Regiment, East Yorkshire Regiment, West Yorkshire Regiment, Royal Army Medical Corps, Army Service Corps, Army Veterinary Corps, Cambridgeshire Regiment, Herefordshire Regiment, Hertfordshire Regiment, Highland Cyclist Battalion, Huntingdonshlre Cyclist Battalion, Kent Cyclist Battalion, London Regiment, Monmouthshire Regiment, Northern Cyclist Battalion, West Alrican Regiment, West India Regiment.