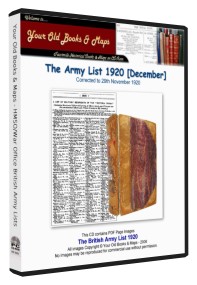 The British Army List 1920
Just after World War One, a Distribution List of Officers of the Regular Army, the Royal Marines, Indian Army, Infantry, Artillery, etc.. Army List Is evidence of the status and rank of the Officers mentioned In It. 1600 Pages...A huge list!! Huge A-Z INDEX of Officers.
List of Regiments
1st Life Guards, 2nd Life Guards, Royal Horse Guards, 1st King's Dragoon Guards, The Queen's Bays, 3rd Dragoon Guards, 4th Dragoon Guards 5th Dragoon Guards, The Carabiniers, 7th Dragoon Guards, The Royal Dragoons, The Scots Greys, 3rd Hussars, 4th Hussars, 5th Lancers, The Inniskilling Dragoons, 7th Hussars, 8th Hussars, 9th Lancers, 10th Hussars, 11th Hussars, l2thLlancers, 13th Hussars, 14th Hussars, 15th Hussars, 16th Lancers, 17th Lancers, 18th Hussars, 20th Hussars, 21st Lancers, Grenadier Guards, Coldstream Guards, Scots Guards, Irish Guards, Welsh Guards, The Royal Scots, The Queen's Royal Regiment, The Buffs, The King's Own Royal Regiment, Tbe Northumberland Fusiliers, The Royal Warwickshire Regiment, The Royal Fusiliers, The King's Regiment, The Norfolk Regiment, The Lincolnshire Regiment, The Devonshire Regiment, The Suffolk Regiment, The Somerset Light Infantry, The West Yorkshire Regiment, The East Yorkshire Regiment, The Bedfordshire and Hertfordshire Regiment, The Leistershire Regiment, The Royal Irish Regiment, The Green Howards, The Lancashire Fusiliers, The Royal Scots Fusiliers, The CheshireRegiment, The Roval Welch Fusiliers, The South Wales Borderers, The King's Own Scottish Borderers, The Cameronians, The Royal Inniskilling Fusilier, The Gloucestershire Regiment, The Worcestershire Regiment, The East Lancashire Regiment, The East Surrey Regiment, The Duke of Cornwall's Light Infantry, Tha Duke of Wellington's Regiment The Border Regiment, The Royal Sussex Regiment, The Hampshire Regiment, The South Staffordshire Regiment, The Dorsetshire Regiment The Prince of Wales's Volunteers, The Welch Regiment, The Black Watch, Th Oxfordshire & Buckinghamshire Light Infantry, The Essex Regiment, The Sherwood Foresters, Tbe Loyal Regiment, The Northamptonshire Regiment, The Royal Berkshire Regiment, The Royal West Kent Regiment, Tbe King's Own Yorkshire Light infantry, The King's Shropshire Light Infantry, The Middlesex Reniment, The King's Royal Rifles, The Wiltshire Regiment, The Manchester Regiment, The North Staffordshire Regiment, The York and Lancaster Regiment, The Durham Light Infantry, The Highland Light Infantry, The Seaforth Highlanders, The Gordon Highlanders, The Cameron Highlanders, The Roval Ulster Rifles, The Royal Irish Fusiliers, The Connaught Rangers, The Argyll and Sutherland Highlanders, The Leinster Regiment, The Royal Munster Fusiliers, The Royal Dublin Fusiliers, The Rifle Brigade, Army Cyclist Corps, Army Educational Corps, Royal Army Medical Corps, Royal Army Ordnance Corps, Royal Army Pay Corps, Royal Army Service Corps, Army Veterinary Corps, British Westlndies Regiment, Cambridgeshire Regiment, Corps of Military Accountants, Guards Machine Gun Regiment, Herefordshire Regiment, Hertfordshire Regiment, Hlghland Cyclist Battalion, Huntingdonshire Cyclist Battalion, Kent Cyclist Battalion, Labour Corps, London Regiment, Machine Gun Corps, Monmouthshire Regiment, Northern Cyclist Battalion, Queen Mary's Army Auxiliary Corps, Royal Corps of Signals, Tank Corps, West African Regiment, West Indian Regiment.