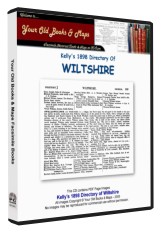 Kelly's Directory of Wiltshire 1898
A usual detailed & comprehensive Kelly's and is part of a multi-directory which includes Hampshire, Wiltshire & Dorset. These are full directories in their own right and will be issued separately. Includes a nice map.
PREFACE
INDEX
PRINCIPAL SEATS
WILTSHIRE SUMMARY
TOWNS & VILLAGES A-Z
PRIVATE RESIDENTS
TRADES & PROFESSIONAL
ADVERTISEMENTS
THE Proprietors, in submitting to their Subscribers and the Public the Tenth
Edition of KELLY'S DIRECTORY OF WILTSHIRE, trust that it may be found equal in
accuracy to the previous Editions.
Every effort has been made to render it as perfect as possible. Lists of
Hundreds and Poor Law Unions are included in the Topography of each
County;. it is stated under each parish in which Petty Sessional Division,
Hundred, Union and County Court District, and Division of the County,
pursuant to the " Eedistribution of Seats Act, 1885," as also in which Diocese,
Archdeaconry, and Eural Deanery it is situate. The population from the
Census of 1891 is given ; lists of Farm Bailiffs of Gentlemen farming their
own land have been added, with a table of Agricultural Statistics.
A New Map is provided for each County.
The County Councils, under the "Local Government Act, 1888," will
be found duly inserted, and various changes caused by the " Local
Government Act, 1894," are noticed.
A sketch of the Geological features of each County, by Mr. W. J.
HARRISON, of the School Board, Birmingham, is prefixed.
The Proprietors have to thank those Clergymen and other Gentlemen
who have given the work the benefit of their local knowledge, for the assistance
which they have rendered to their Agents while collecting the information.
Numerous applications having been made for a Directory of the
Channel Islands, the Publishers have taken the opportunity, when issuing
this edition of Hampshire, &c, to include it compiled upon the same
plan as the County books.