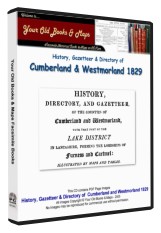 Cumberland & Westmorland 1829 Directory
History, Directory, And Gazetteer, Of The Counties Of Cumberland & Westmorland.
With That Part Of The Lake District In Lancashire, Forming The Lordships Of Furness And Cartmel: BY WM. PARSON AND W. E. WHITE. 1829.
Alphabetical Lists of the SEATS of NOBILITY, GENTRY, and CLERGY. A GENERAL HISTORY and DESCRIPTION of CUMBERLAND and WESTMORLAND, and the whole of the LAKE DISTRICT.....
[Please note: Poor quality Scans]